Makes 6 servings
This simple meal can be made the night ahead and served for brunch, lunch or supper! Try to use fresh basil as it really does make a difference.  Cheddar cheese can be substituted for the Swiss cheese.  Serve with ta simple Fresh Tomato Salad.
Ingredients
6 cups  (1.5 L)             whole wheat bread cubes (about 8 slices), preferably stale
3 cups  (750 mL)         finely diced zucchini (about 1 lb/500 g)
1-1/2 cups (375 mL)   shredded Swiss cheese
6                                  eggs
2 cups  (500 mL)         2% milk
1/4 cup (50 mL)          chopped fresh basil or 1 tbsp (15 mL) dried basil
1/2 tsp (2 mL)             dry mustard
1/4 tsp (1 mL)             each ground nutmeg and pepper
6                                  large tomatoes (about 3 lb/1.5 kg), sliced
2 tbsp  (25 mL)           balsamic vinegar
2 tsp (10 mL)              olive oil
1 tbsp (15 mL)             chopped fresh basil or 1 tsp (5 mL) dried basil
Pinch                           pepper
Directions
Lightly grease a 9- x 13- inch (3L) glass baking dish or spray with nonstick cooking spray.
Spread half of the bread cubes in the casserole dish; top with half of the zucchini and half of the cheese. Repeat layers.
In a large bowl, beat eggs with milk, basil, mustard, nutmeg and pepper; pour over strata. Cover and refrigerate for at least 1 hour or overnight.
Preheat oven to 350°F (180°C). Bake, uncovered, for 45 to 55 minutes or until golden and set in centre.
To make the Fresh Tomato Salad, arrange tomato slices on large plate. Combine vinegar and oil; drizzle over tomatoes. Sprinkle with basil and pepper.
Cartoons ©Steve Nease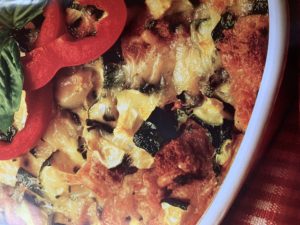 Suppertime Survival © Bev Callaghan + Lynn Roblin 2020. All rights reserved.
www.suppertimesurvival.com