Makes 6 Servings


This make and bake supper is also the perfect make ahead meal.  Prepare it the night before and have it ready to pop in the oven the next day.  For a flavour twist we have used sliced fennel and ground fennel seeds, but if you don't have any, celery is a good substitute for the fennel and swap in dried oregano instead of the fennel seeds.
Ingredients:
1 tsp (5 mL) olive oil
2 lb (1 kg) Italian sausage (about 4 large, casings removed)
1 large onion, sliced
1 fennel bulb, cored and sliced thinly
2 minced garlic cloves
3 medium peppers, julienned (any colour)
½ cup (125 mL) dry red wine
1 can (28 oz796 mL) whole tomatoes, not strained
2 tsp (10 mL) fennel seeds, ground
12 oz (about 4 cups/1L) penne pasta
1-½ cup (375 mL) part-skim mozzarella cheese
¼ cup (50 mL) grated Parmesan cheese                                   
Directions:
Preheat oven to 350F.  Lightly grease a 9 x 13 (3L) glass baking dish or spray with nonstick cooking spray. 
In large Dutch oven heat olive oil over medium high heat.  Break up sausage and cook for 2-3 minutes until beginning to brown; add onion, fennel, garlic and peppers and cook for 5-6 minutes until softened.  Add red wine and cook for 1 minute until wine has evaporated.  Add tomatoes and fennel seeds.  Reduce heat to medium low, cover and simmer for 20 minutes.
Meanwhile, in large saucepan of boiling water cook pasta 2-3 minutes less than recommended cooking time.  Drain and place in baking dish.  Pour sausage mixture over top and combine with pasta. 
Sprinkle with mozzarella and Parmesan cheeses.  Cover and bake for 45-60 minutes until bubbling.  Uncover for the last 15 minutes of baking time.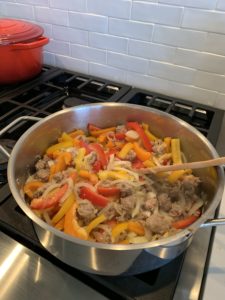 Suppertime Survival © Bev Callaghan + Lynn Roblin 2020. All rights reserved.
www.suppertimesurvival.com